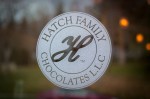 The weather has been quite lovely in the city. We still do not have snow where I live. But I am itching to go snowshoeing already!
Since the snow activities are out, I figure a treat to fit the situation is in order. I suggest you venture to Hatch Family Chocolates for a frozen hot chocolate.  Mind you, this is more a summer treat. They might not have any when you get there. I am glad I asked. The helpful young folks at the counter hooked me up and helped us pick a small assortment of candy too.
My understanding of the frozen hot chocolate is that it is a mixture of their hot chocolate base and their homemade ice cream. It was quite a treat, not quite as creamy as a milkshake but not as icy as as snow cone. I cannot wait to head back for a hot chocolate, the flavor was that good.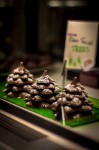 The shop has a few seasonal items, a few chocolate Santa, snow fallen trees, and of course the traditional chocolates. There is also a giant chocolate Santa if you are in the need of a unique item for table decor (around $200). If that large one is out of your price range, the small one is solid (totally SOLID) chocolate and well worth the $10.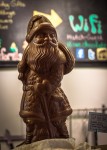 I am a sucker for what I call menu chocolates, the ones that come with pictures to tell you what is in the box, so Hatch's traditional chocolates are fun for me. I appreciate the letters on top to let you know what you are about to bite into. All the flavors were pleasant, we tried the raspberry and orange creams and the peanut butter truffle. We also tried the salted caramel. A delicious glob of buttery caramel, coated in chocolate, with a dash of salt. Yum.
If you find you cannot make it into the shop, you are still in luck. They have an online shop.