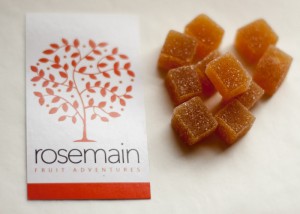 Sweet potato candy. Yep. Yum.
First off, welcome back. Hope you had a lovely holiday break and that it was filled with lots of sweets. 🙂
I love that you never know what you will find at the Winter Farmers Market! Pâtes de fruits are one of my favorite types of candies, I even enjoying making them. The flavor combinations of fruit puree and pectin are endless and the process is less intimidating than caramel. I was delighted to find them at the market and I am crossing my fingers that they will be available at stores near me, soon. I did read that they are available at stores in Park City and even on Amazon.com.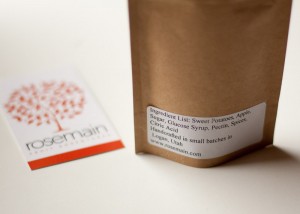 The stand for Rosemain is simple and they had all the flavors available for sample. Flavors include ginger, beets, hot celery, and honey. All the flavors come in either a large size bag for your massive cravings or small bags if you just want a little bit to tide you over.
I sampled all the flavors, enjoying them all, and decided to take home a small bag of Sweet Potato pâte de fruit. Simple packaging (even resealable), lovely flavor, pronounceable ingredients, and made locally in small batches. Check out their Facebook page for updates on where you can find them.